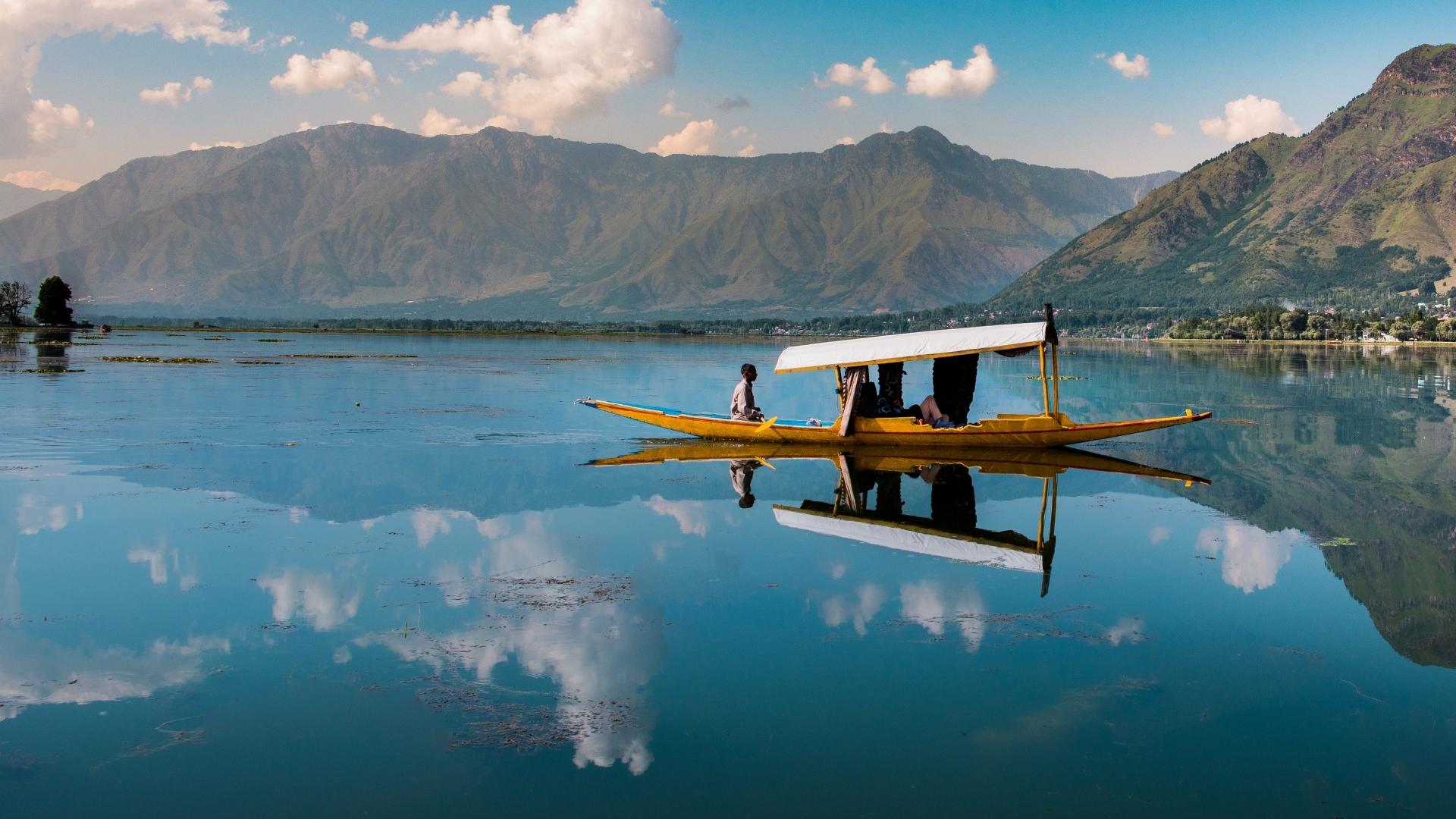 Kashmir is famed for its meadows, lakes and springs and requires no formal introduction. Most people are aware of the popular Dal lake and Wular lake; however, that's not the end of the story, as the Kashmir region consists of numerous scenic lakes with a backdrop of beautiful mountains and some of the important lakes of this region are covered here:
Dal Lake
It is the world-famous and splendid lake east of Srinagar, the summer capital of Jammu & Kashmir. Dal lake is the second largest in the valley of Kashmir, spreading about 18 square kilometres. The lake comprises small islands, floating gardens and colourful boats surrounded by beautiful mountains, offering promising picturesque views. Scientifically, Nagin lake is an extended part of Dal lake, while some people consider it a separate lake, and with no second thought, it also presents a pleasant experience.
Wular Lake
It is the largest freshwater lake in Kashmir, situated at a distance of 50 kilometres from Srinagar. Wular lake is a huge absorption basin for flood waters stretching up to 130 square kilometres. A vast marsh around the lake creates favourable habitats for birds and other wildlife, offering a feast for the bird watchers. For travellers and nature lovers, this lake demands a stop proposing a superb view despite facing several environmental threats.
Manasbal Lake
Manasbal is a freshwater lake and tranquil place for bird spectators situated at a distance of 30 kilometres from Srinagar and 60 kilometres from Jammu. The lake is encircled by small villages and extensively harvested by lotus plants.
ALPINE LAKES OF KASHMIR VALLEY
Readers must know: that the below-mentioned alpine lakes lie at a high altitude and involve trekking to access these amazing places of natural water bodies.
Gadsar Lake
Gadsar is a small lake at a high altitude surrounded by alpine meadows that lie in the high mountains of Sindh valley, accessible from Sonamarg, and the approach involves trekking. The lake remains frozen during the winter, and it is well known as the "valley of flowers" and a delightful destination for nature lovers and adventurers.
Nandkol & Gangabal Lakes
Gangabal is another high-altitude alpine lake considered sacred in Hinduism, situated at the base of Haramukh mountain. Precipitation, glaciers and springs feed the lake. Through a natural arrangement, the water outflows to Nandkol lake, which is closer and at a lower elevation to Gangabal lake and is a perfect spot for camping. Accessing this lake is possible from Naranag and Sonamarg, but it involves trekking.
Krishnasar & Vishnusar Lakes
Snow mountains, enchanting meadows and gorges encircle these alpine lakes that lie at a high altitude situated near Sonamarg. Krishnasar drains out to Vishnusar through a stream, which in turn, sources the Neelum river. These lakes remain frozen in the winter and are inaccessible.
Marsar & Tarsar Lakes
These two alpine lakes between Sindh valley and Kashmir are called "twin sisters" due to their proximity and are separated by a mountain. The lakes appear as stunning landscapes in the summer, surrounded by alpine flowers and form an essential habitat for Himalayan wildlife. The breathtaking place in the Kashmir valley is a trekkers paradise accessible from Pahalgam.
Tulian Lake
Tulian lake is one of the spectacular alpine lakes encompassed by snow mountain peaks in the great Himalayan range accessible from Pahalgam and Baisaran. Freezing waters with chunks of ice floating on the surface remains frozen for most of the year.
Sheshnag Lake
Sheshnag is a scenic lake surrounded by gorgeous meadows and snowcapped mountains situated on the way to Amarnath cave, accessible from Pahalgam.
For adventure seekers and trekkers, the Kashmir valley has more alpine lakes at a high altitude, such as Nandan Sar and Kausar Nag in the Pir Panjal mountain range, and trek routes are challenging too, making it out of reach for normal tourists. Numerous other accessible lakes in Kashmir are in deteriorated condition due to environmental threats.