Mural paintings are fine artistic expressions of prehistoric human life, stories and their settlements that aspire to any artists and viewers. Considering the literary evidence, it is the oldest art form known so far and has flourished in India since ancient times. Though, there are several archaeological sites that exist to demonstrate mural paintings in India, only those with sufficient remains are covered in this article.
The word "mural" is derived from the Latin word "murus", meaning wall. In general, the term "mural paintings" implies wall paintings, or it can be defined as, "any work of art painted or applied straight away onto a large permanent surface such as wall, ceiling or substrate". In the case of mural paintings, the paint integrates itself into the lime plaster and is applied to substantial support such as stone or rock.
Features of Mural Paintings
Some of the unique features of mural paintings are as follows:
It is inevitably associated with architecture.
It is the form of painting at best that is precisely three-dimensional.
It is a multi-conceptual artwork.
It connects pragmatism with characterization considerably.
Illustrates the people, progress, life, culture, traditions and other elements of a particular time.
It attempts to compare the actual behaviour with morality amounting to criticisms.
Some of the admired rock-cut caves and historical places that stand evidential to signify mural paintings in India are:
Ajanta caves (Satavahana period)
Bagh caves (Gupta period)
Badami caves (Chalukyas period)
Ellora caves (Rashtrakutas period)
Sittanavasal (Pallavas period)
Brihadeshwara temple in Tanjavur (Cholas period)
Virupaksha temple in Hampi and Veerabhadraswami temple in Lepakshi (Vijayanagara Kingdom)
Ajanta Caves
---
Ajanta caves are located about 105 kilometres away from Aurangabad, a city of historical importance in the state of Maharashtra. The tranquil atmosphere, a beautiful horsetail waterfall of stream Waghora on one side and ancient rock-cut caves set like an arena on the other side stands to express the stories of Buddhist monks and human settlements from 2 BCE.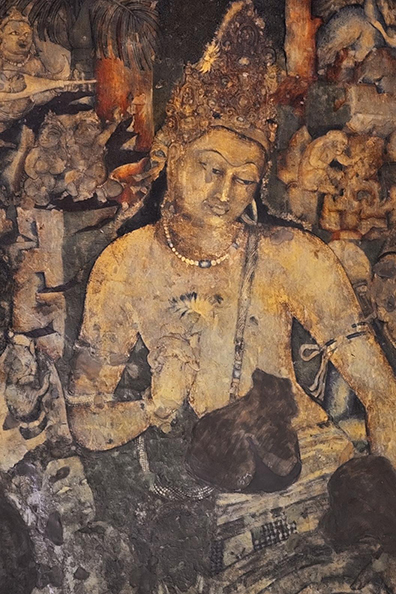 According to some historians, the caves were close to the trade routes of those times and allured travellers, merchants, pilgrims and others. Some inscriptions imply that the royals and nobles stopped over, dwelled and contributed to the construction. The monks hired artists to narrate the stories of Buddha through artworks on the walls and ceilings of the caves. The style of art portrays improvisations in art forms and techniques covering a time span of 600 to 700 years and was spread over to the far east and other parts of Asia. The medium used in these paintings was tempera (an ancient medium used in most parts of the world). Though, the caves remained far away from human intervention, due to some noticeable weaknesses in the techniques of delivering these works of art led to dilapidation.
Archaeologists are working to preserve these marvellous works. The Ajanta caves are maintained by ASI (Archaeological Survey of India) and are listed as a UNESCO world heritage site. There are several caves to delight the viewers representing a mixture of styles, activities, progress in civilization and various ages from 2BCE to 650CE.
Bagh Caves
---
Bagh caves are impressive rock-cut caves located in the Narmada valley, at a distance of 100 kilometres away from the city of Dhar, in the state of Madhya Pradesh. These caves seem to be rest houses (viharas) that date back to 5CE to 6CE, were inhabited by Buddhist monks and after their extinction by 10CE, remained inconspicuous. The fourth cave among all is the most extensive and has some exceptionally maintained mural paintings, the locals named it "Ranga Mahal" which translates to the palace of colours in English.
The works of art look synchronous to that of Ajanta, specifically the painting of Bodhisatva Padmapani with Lotus. One can also notice some interesting art scenes like folklore, music and dance performed by women, and procession in the walls of the fourth cave.
Badami Caves
---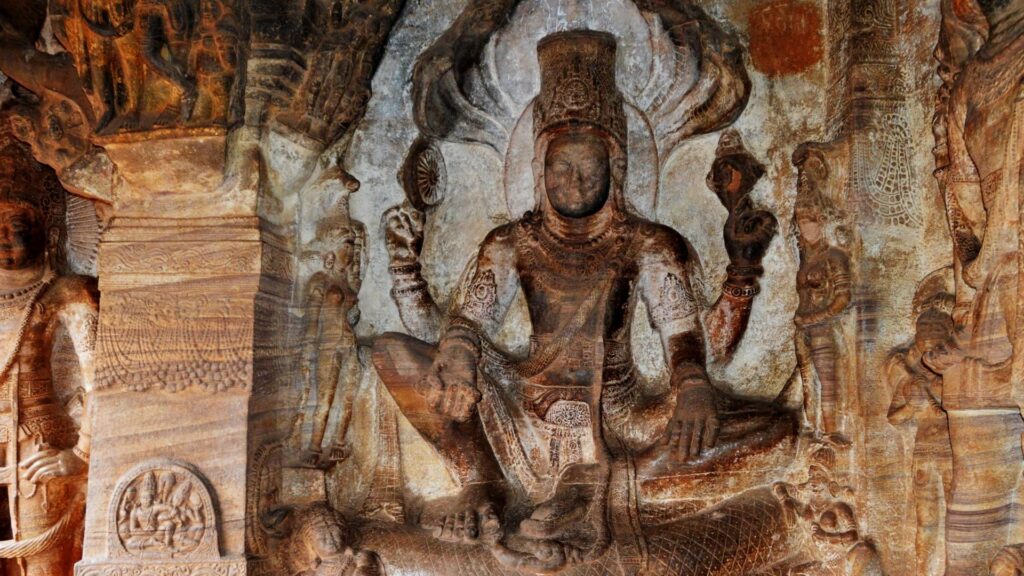 The exquisite rock-cut caves of Badami date back to 6CE, earlier known as "Vatapi" during the reign of Chalukyas. Badami is a small town in the district of Bagalkot in the state of Karnataka. The caves at Badami delight the travellers with marvellous sculptural works of those times, however, it is hard to notice the mural artworks as there are only a few traces of painting inside the caves. According to scholars, even Chalukyas continued the convention of Ajanta, as these deficient paintings have high relevance to those of Ajanta paintings.
Ellora Caves
---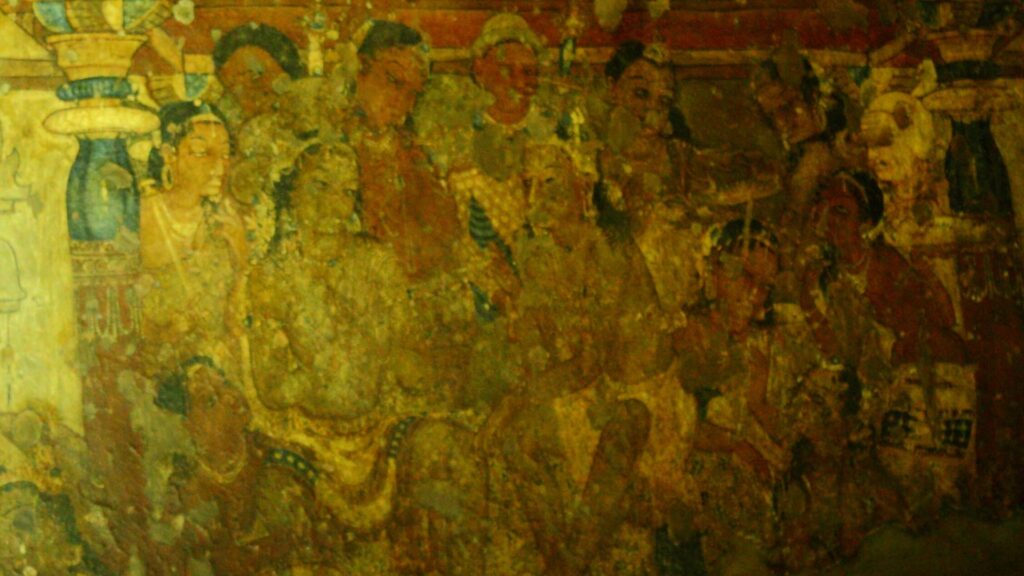 Ellora caves are one of the biggest rock-cut cave complexes reachable in just an hour from the city of Aurangabad (35 kilometres), in the state of Maharashtra. It is a UNESCO world heritage site and well maintained by the Archaeological Survey of India. Ellora caves consist of Hindu, Buddhist and Jain temples. Sufficient time is required to take a proper walkthrough in this place.
Remains of mural paintings at Ellora found in the Kailasa temple are not much spoiled, while the paintings found in the Lankeshvara, Indra Sabha and Ganesha Lena temples were decayed to a greater extent. Though one can observe copious paintings in the Jain temples, it seems forbidden for a longer time and the paintings found here are decayed.
Sittanavasal
---
Sittanavasal is a village in the Pudukottai district, in the south Indian state of Tamil Nadu. Jainism flourished between 1BCE to 10CE. The name "Sittanavasal" is a Tamil word that means, the dwelling place of enlightened ones. The mural paintings that are found here employ fresco techniques and resemble the mural paintings at Ajanta. Only some remains on the ceiling and the top parts of the pillars are preserved.
Brihadeshwara Temple in Tanjavur
---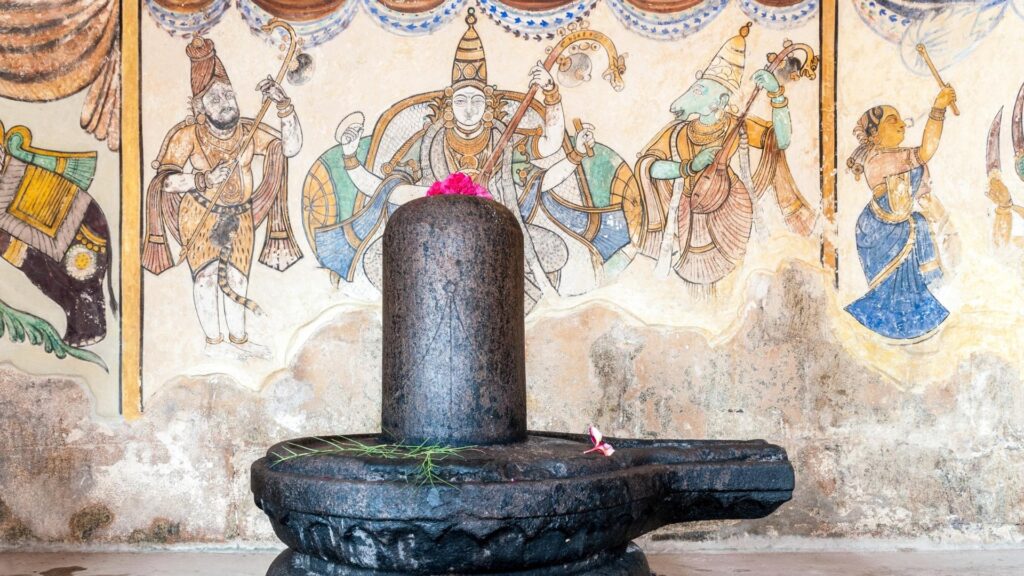 The Brihadeshwara temple is located in Tanjavur, in the south Indian state of Tamil Nadu. The glorious temple contemplates the reputation of Chola culture and the well-preserved mural paintings portray a distinct style of artwork. The features of the artwork especially on the northern walls are finely composed and the colours have a hushed tone. These mural paintings were executed using the fresco technique.
It is a massive temple built in Dravidian style during 11CE and is listed as a UNESCO world heritage site. In fact, Brihadeshwara temple is a must-visit place in south India and there is much more to write about this place, however, it is beyond the scope of the article.
The Temples of Hampi & Lepakshi
---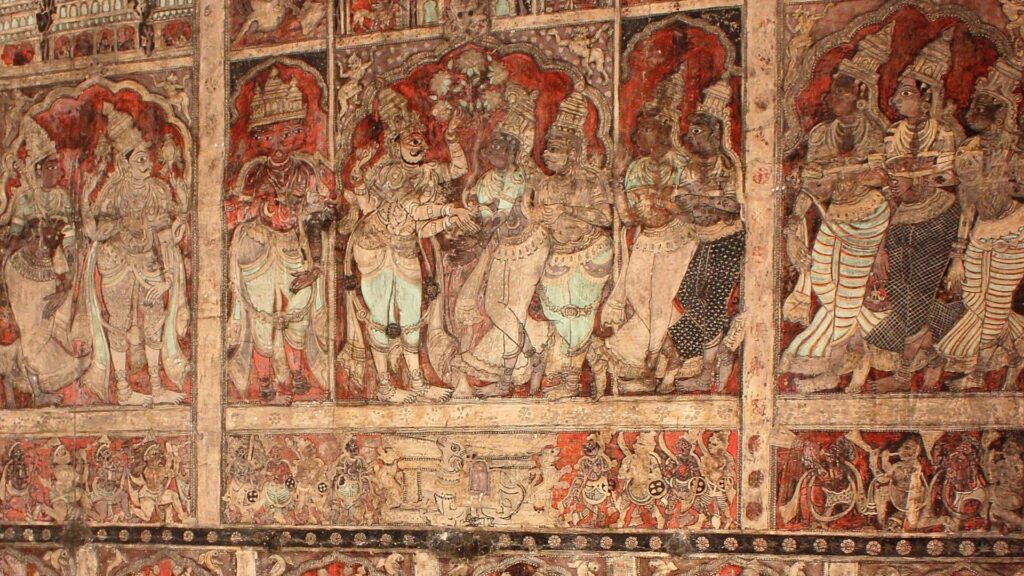 Hampi was the renowned capital of the Vijayanagara kingdom in the medieval period. This place was known for its grandeur of architecture, palaces, temples, culture and markets, especially during the reign of Sri Krishnadevaraya (1509 – 1529 CE) who also encouraged art and artists to a greater extent in South India. Most of the mural paintings were outlived and are well preserved in Virupaksha temple (Hampi) and Veerabhadraswami temple (Lepakshi) even after destructions caused by numerous Muslim invaders.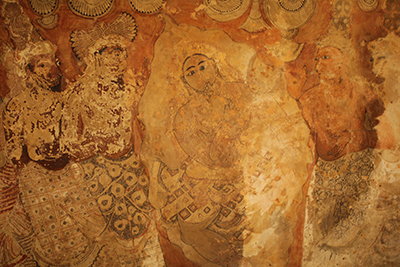 Vijayanagara paintings focus on Hinduism and illustrate the scenes mainly from Ramayana and Mahabharata along with other Hindu mythological stories. These mural arts are admiringly ornamental with several improvisations employed in art techniques that make these artworks stand apart from the conventional mural painting.
---
As said before, the list of places that stands prominent to speak of mural paintings does not end here, there are many places other than the above mentioned that attract travellers, historians, artists and others. Here are some more places for those who are interested to see more examples of ancient mural paintings: Kailasanathar temple in Kanchipuram, Jain temples of Thiruparutikundram and Talagirishwara temple at Panamalai, however, it shall be noted that the remains of mural paintings in these places have extremely deteriorated.