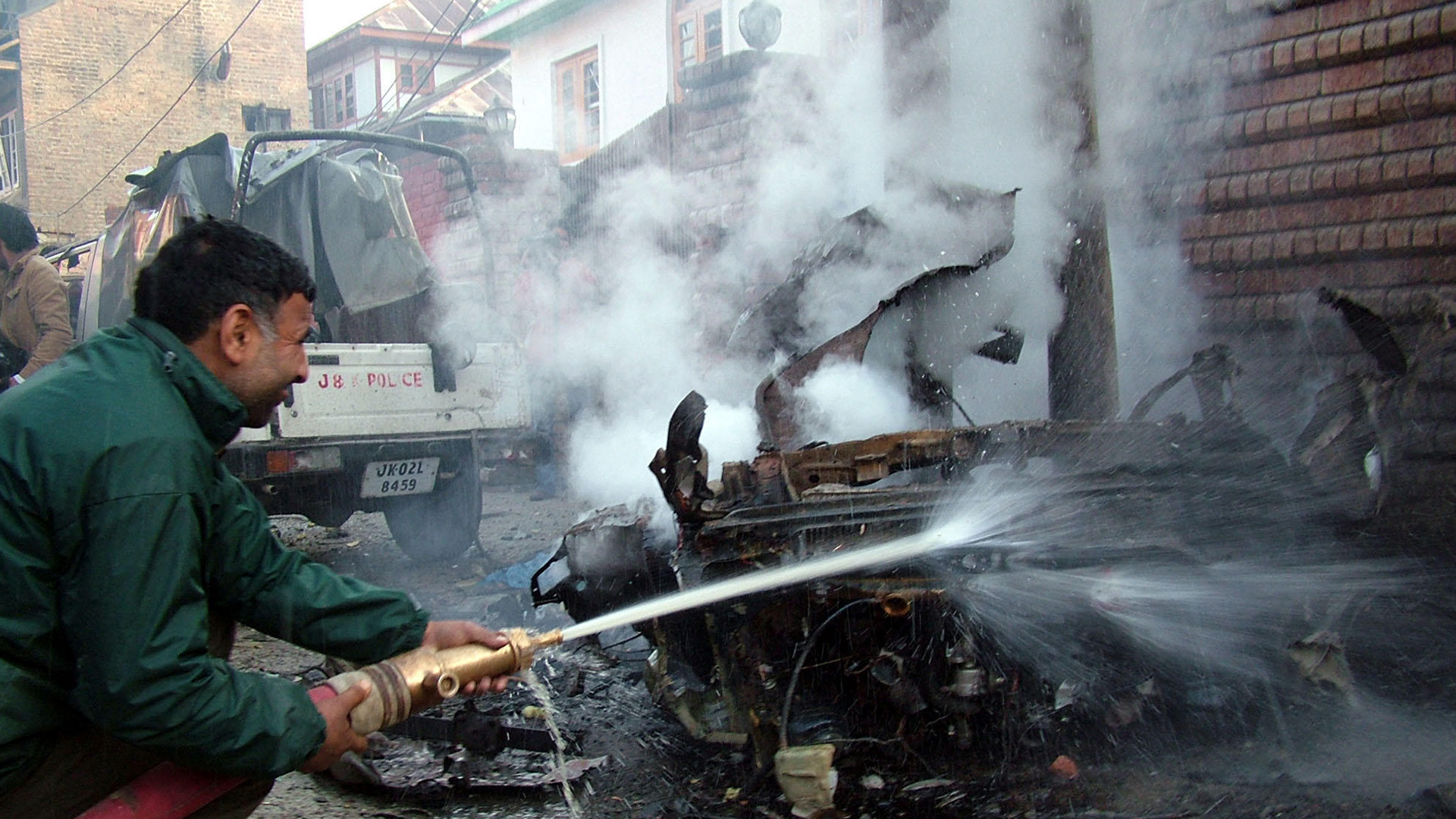 SRINAGAR, INDIA – NOVEMBER 14, 2006: Indian firefighter tries to stop the erupting fire from the wreckage of a vehicle which was damaged in a car bomb blast in Srinagar, India. Suspected Islamic militants triggered a car bomb explosion in the Indian-controlled part of Kashmir on Tuesday, wounding at least 30 people, including 6 soldiers. (Photo by Altaf Zargar/ZUMA)
For one to understand the reasons behind the vicious deeds of militants in Kashmir, it is required to turn back the pages to brief the background of the territorial disputes between India and Pakistan claiming to integrate the formerly monarchial state of Jammu & Kashmir. After the partition in 1947, Pakistani forces and militants invaded Kashmir while the Maharaja of Kashmir signed the accession in India's favour leading to wars. India sought the UN to resolve Kashmir's issue; however, the attempt was unsuccessful, and Pakistan retained the illegally acquired areas under its control.
In Kashmir, the democratic refinements were negligible till 1970. After the death of the former chief minister Sheikh Mohammed Abdullah and with continued instability in regional politics by 1987, the Indian government repudiated various diplomatic reforms that favoured the conditions for the emergence of separatists and armed insurgencies. In the 1990s, Kashmir witnessed cross-border terrorism and a series of strikes from Islamic militant groups, critically threatening national security. The issue further became sensitive enough to deploy Indian military forces against Islamic militant groups, and the clash caused immense casualties and civilian deaths.
To make things even worse, Pakistan handed over part of PoK (Pakistan-occupied Kashmir) territory to China in recent years. At present, Azad Kashmir and Gilgit Baltistan are the illegally acquired areas of Kashmir administered by Pakistan; Aksai Chin and some other parts are in control of China, and the remaining 45% of Kashmir (including the territories of Ladakh and Kashmir Valley) is under the administration of India.
Some militant groups (or terrorist groups) playing a key role in this conflict are JKLF (Jammu & Kashmir Liberation Front), Hizbul Mujahideen, Lashkar-e-Taiba, Jaish-e-Mohammed, Harkat-ul-Mujahideen and other groups. Indian armed forces are constantly operating to keep things in control and eliminate insurgencies.
The disputed assembly election in 1987, the accusation of human rights abuses against deployed Indian forces, curtailing of civil liberties, financial aid to militant groups from ISI, infiltration of terrorist groups to wage war against India, marginalization of Muslims and their radical Islamic ideologies, lack of economic prospects and several other reasons forms the basis for these insurgencies.
PROMINENT ACCOUNTS OF VIOLENCE IN KASHMIR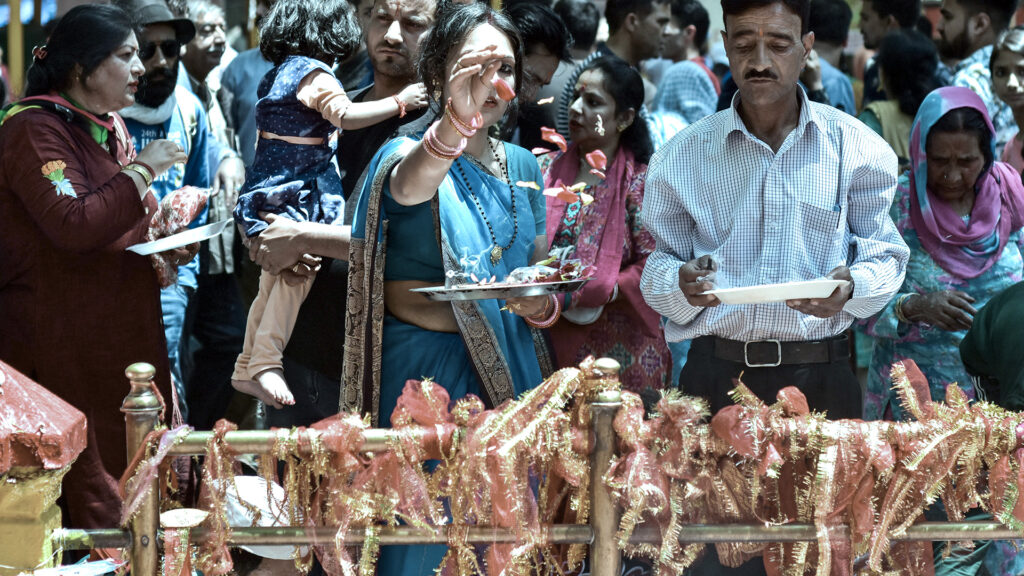 GANDERBAL, INDIA – JUNE 10, 2019: Devotees perform rituals at the Kheer Bhawani temple during the annual Hindu festival in Ganderbal district, about 30kms northeast of Srinagar, Kashmir. Thousands of Kashmiri Hindus, many of whom were displaced 20 years ago, attended the festival in order to worship the Hindu goddess Mata Kheer Bhawani on the day of her birth. Some 200,000 Kashmiri Pandits fled the region in the early 90s at the start of an insurgency against Indian rule mainly to the Hindu-dominated southern city of Jammu and they return yearly for the festival. (Photo by © Saqib Majeed/SOPA Images via ZUMA Wire)
Evacuation of Hindus in Kashmir (Kashmiri Pandits)
In Kashmir, with a majority of the Muslim population driven by Islamic principles, in the 1990s, the Islamic separatist group JKLF (Jammu & Kashmir Liberation Front) kidnapped and killed several Hindu government officials, notable leaders and personalities. Such heinous acts by militants inculcated fear among the Hindus, who felt that Kashmir was no longer a safe place for them. Some local print media favouring Islamic militants published threatening messages addressing the Hindus to evacuate Kashmir. Further, these militant groups destroyed homes, temples, idols of Hindu deities, shops and businesses of Kashmiri pandits. Many women in the Kashmiri pandits community were tortured, abducted, gang raped and murdered by the Islamic militants, and such subsequent fierce incidences forced the migration of Kashmiri Hindus. Over one lakh migrated and lived in rehabilitation camps facilitated by the government.
Abduction of Rubaiya Sayeed
In 1989, the Jammu & Kashmir Liberation Front militants abducted Dr Rubaiya Sayeed while returning home and held as a hostage, demanding the release of five militants the Indian enforcement agencies detained. Dr Rubaiya Sayeed, the third daughter of Mufti Mohammad Sayeed, the then Union Minister of Home Affairs, was set free after releasing the five terrorists by the government.
Cases of Human Rights Abuses & Extermination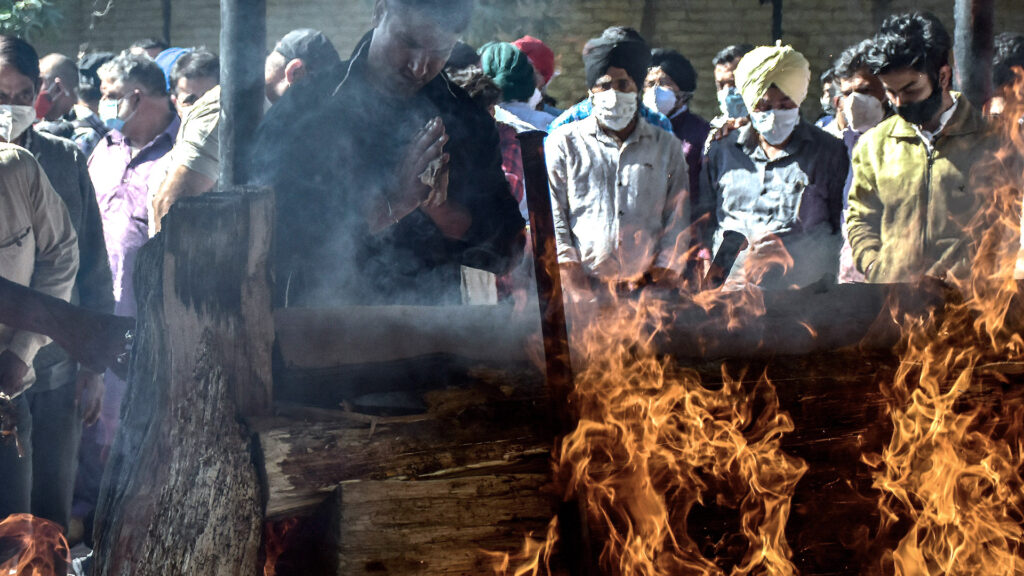 SRINAGAR, INDIA – OCTOBER 06, 2021: A relative prays near the burning pyre of slain Makhan Lal Bindroo, a businessman and owner of a pharmacy during his cremation in Srinagar. Bindroo, the deceased is a Kashmiri Pandit and two other men were killed by unknown gunmen suspected to be militants in separate attacks on Tuesday evening. (Photo by Saqib Majeed/SOPA Images/Sipa USA)
Since 1990, Kashmir has witnessed active revolts, ongoing insurgencies and a series of massacre incidences:
Gawkadal Massacre: In January 1990, without considering civil liberty, Indian enforcement agencies raided civilian residences searching for illegal arms and hidden militants, and many of them were taken into custody as suspects. Challenging this incident, a big crowd of Kashmiri Muslims initiated a protest by shouting Islamic and Anti-India slogans on the streets. At first, the security forces attempted to stop their rally at Lal chowk in Srinagar. However, the protesters headed further towards the Gawkadal bridge, obsessing the security forces to open the fire resulting in a death toll of over 50. In other reports, the forces likely killed over 100 people; many jumped into the river and drowned.
Sopore Massacre: In January 1993, the JKLF militants attacked the BSF (Border Security Force) troops and killed at least one among them at Sopore, a town in Kashmir. In response, the BSF burned hundreds of shops and houses and killed many civilians travelling on a bus.
Bijbehara Massacre: the event occurred in October 1993; based on the information that the armed militants occupied the Hazratbal Mosque, the Indian Army sieged the religious shrine of Muslims. The act worsened the crisis and sparked the Islamists. After a week-long siege, thousands of protesters gathered at a Mosque in Bijbehara and organized a march urging for clearance at Hazratbal. On the national highway connecting Srinagar & Jammu, the protesters, upon confrontation, BSF troops blocked the road and opened fire on protesters without warning. In due course, several people were injured and brutally killed indiscriminately.
Abduction of Foreigners: Omar Sheikh, a militant who abducted four foreigners demanding the release of imprisoned militants and the leader of Harkat-ul-Ansar in 1994, got caught and imprisoned in Delhi. In 1995, a militant group abducted six foreign tourists and their guides in Pahalgam, a town in Jammu & Kashmir, to ensure the release of Masoor Ahmed and other militants of Harkat-ul-Ansar. The militants decapitated one among the foreign tourists for not fulfilling their demand, while one tourist managed to escape, and others were assumed dead (as their dead bodies were not found).
Slaughters by Militants: During the visit of former US President Bill Clinton to India in 1998, Lashkar-e-Taiba and Hizbul Mujahideen militants brutally killed 20 plus Kashmiri Pandits, the residents of a village called Wandhama in Kashmir. Three months later, Pakistani militants beheaded 26 Hindus, the villagers of Prankote and Dakikote in Kashmir; subsequently, another massacre took place by killing 25 more villagers at Chapnari, a small village in Kashmir. In 2000, the terrorists killed over 30 Hindu pilgrims and injured several others while heading to the Amarnath temple. Next to this incident, Lashkar-e-Taiba terrorists murdered 36 villagers belonging to the Sikh community in Chittisinghpora. After two years, they killed 27 Hindu labourers in another attack with grenades and automatic weapons in Qasim Nagar. In 2003, the armed Pakistani militants targeted and killed a small group of Kashmiri pandits who remained in the Nadimarg area. The terrorists also executed many minor attacks in Srinagar in 2005, and around 35 Hindus were killed in Doda and Udhampur in 2006.
Bomb Blasts by Terrorists: In 2001, Jaish-e-Mohammad militants attacked the State Legislative Assembly killing around 38 people, one crashed and exploded an SUV packed with explosives at the entrance, and three suicide bombers entered the complex to take control; however, security forces killed all of the militants. Raghunath temple in Jammu witnessed two attacks by suicide bombers in 2002; the militant group with two suicide bombers rushed into the temple and killed 11 devotees injuring many others in their first attack in March, killing 14 devotees in their second attack in November. Militants also used grenades and guns in the temple premise during the attack. In 2005, terrorists exploded a bomb planted in a car, killing four army personnel in Srinagar.
Tormenting Strikes on Indian Armed Forces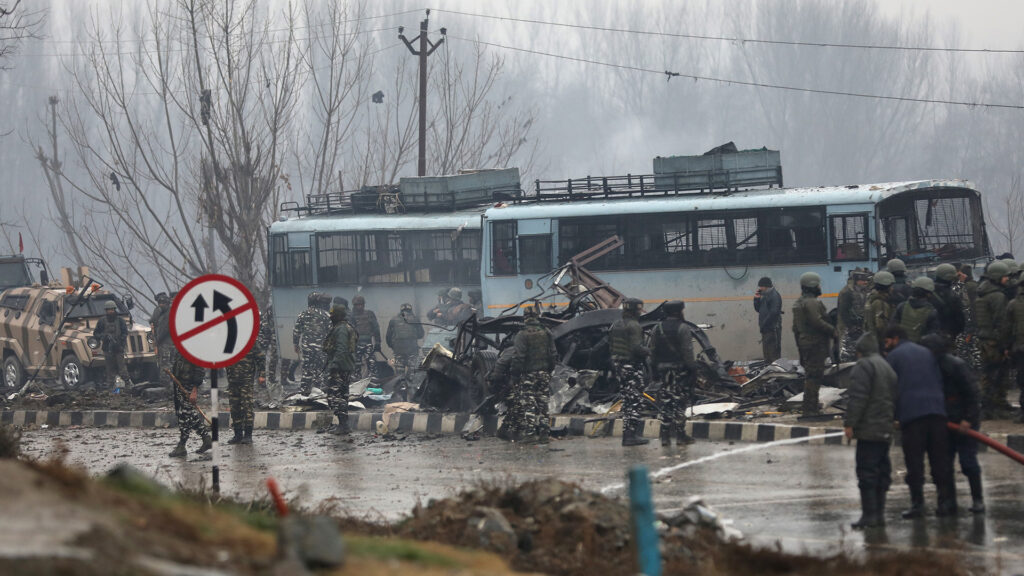 SRINAGAR, INDIA – FEBRUARY 14, 2019: Security forces near the damaged vehicles at Lethpora on the Jammu-Srinagar highway, on February 14, 2019, in Srinagar, India. At least 30 CRPF jawans were killed and many others injured in an improvised explosive device (IED) blast at Lethpora. Police sources say that the attack was likely carried out by a suicide bomber, who rammed an explosive-laden car into the CRPF bus. The bus was part of an army convoy coming from Jammu to Srinagar. (Photo by Waseem Andrabi/Hindustan Times via Getty Images)
The terrorists perpetrated attacks at four different places to distort the assembly elections targeting military camps and police check-post, killing many army personnel, police officers on duty and civilians in 2014. In the 2016 URI Attack, the armed militants slinked into the military camp and used grenades to destroy the tents killing 19 army personnel and injuring 30 others. Indian military force encountered all the terrorists during this attack. The killing of Burhan Wani (local leader of Hizbul Mujahideen) instigated the militants to execute URI Attack.
In the 2018 Sunjuwan Attack, the militants of Jaish-e-Mohammed, armed with automatic guns and grenades, executed strikes on residential quarters of army personnel and killed six soldiers and injured over 20, including family members. Later, an operation by special forces encountered all the attackers.
In the 2019 Pulwama Attack, the terrorists belonging to Jaish-e-Mohammed targeted a group of military vehicles transporting CRPF (Central Reserve Police Force) personnel travelling on National Highway 44 (Jammu to Srinagar). A car loaded with explosives crashed and exploded one of the vehicles in the line carrying CRPF personnel; the blast killed 40 and injured many others. It is a detrimental attack of recent times on state security forces.
Kashmir has been suffering for decades from outbreaks of violence and never-ending insurgencies. It is really hard even to imagine and understand the nature of conflicts and life in Kashmir for the people residing elsewhere in India.